Web Development Projects
These sites below can only give a taste of previous project experience. Other projects include me working on a team with other companies and cannot be listed here.

Need more information on experience in specific areas? Click here to see tools and concepts that you can use in your new website.
---
---
PHP Starter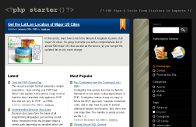 I have developed a niche for doing just about anything in PHP. I have learned frameworks and several programming techniques and have wanted to start a niche blog for some time now. I finally got one launched in late 2008. As of February 2009, it has had over a thousand visits from several countries, and continues to grow.
---
It's Our Land
I had a personal stake in this website. Over the last couple years, the local town has been trying to annex my area. I'm not a lawyer, so I can't personally fight the forceful annexation, but I can launch a website to build awareness. This website is very easy to update as there are frequent updates to post as meetings and votes happen. We also have a links section that keep a list of media coverage articles.
Completed: October, 2008
---
Banter Floors and More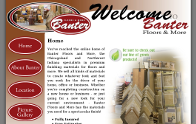 Banter Floors and More is a company in the local area that has a beautiful showroom and in need of a matching website. This is a good example of how a simple website can be a powerful marketing tool. This was put together in a fairly short amount of development time with a contact form and a dynamic picture gallery.
---
Texoma Business Pages
This client needed a website that showed classified listings from businesses in the area. The necessary database and scripting is done to allow for automated account setup and secure online payments. The only interaction needed by the site owner is to approve the ads as they come in.
---
AGS Webs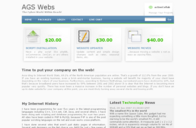 Before my business name changed to Wells IT Solutions LLC, available website services was offered under agswebs.com. This site featured a clean interface and got right to the point. The main reason why I keep this on this page is because I completed this site from scratch in one business day. This website was living proof that a basic informational website can be completed very quickly. See a full version of the homepage here.
Completed: April, 2007
---
Pr0gr4mm3r - Personal Site
This was a personal site that I designed for myself. This is an online playground with various online tools and articles on whatever happens to be on my mind.
---
Andy's General Store Retail & eBay
Back in my early days of entrepreneurship, I designed an online catalog from scratch that also powered the listing content for my eBay store. As well as the typical functionality you would find with an online store, I also developed tools that allowed me to move up to 500 items at a time from my website to my eBay store. This self-made solution saved more time and money than any other 3rd party eBay tool I could find.
Completed: June, 2006
---
Serenity Vacations, Inc.
Serenity Vacations, Inc. rents a vacation home on Kentucky Lake in Benton, Kentucky. They needed a website with general information on the house as well as the area attractions and the lake. They got a website with real-time reservation information on an integrated calendar, easily manageable pictures galleries, and much more.
---
Compliance Assurance Associates
Compliance Assurance Associates, Inc. ("CAA") is a company that provides certification services to many large corporations in the country. To get certified, each individual has to go through a lecture and on-site training session. Before their new website was developed, they were doing all their enrolling and client management by hand! Their site has a private members area and integrated Google Maps to show the locations of all public schools. Enrolling is also done on the website and is completly automated.
Completed: August, 2005
---
Community Bible Church
Community Bible Church ("CBC") already had a great website, but the content was difficult to keep up to date. Updating the weekly events required manually updating the HTML files (not user-friendly), causing the site to be often out of date. A solution was needed to make the site easy to update since most of the people that contribute to the site are volunteers and not web-savvy. I provided them with a website that was easily managed by the secretary and staff. The website required little maintenance from me once finished.
Completed: February, 2005